Getting Married?
We have wedding suits in stock!

If you're planning a wedding this year, we know that you've had many more challenges than usual. So, to make it easy, we have a great selection of wedding suits in stock, and our own tailor shop in the store for quick alterations.
We can also rent tuxedos and get you in and out very quickly, and we have helped many a bride out already this year when they were not able to reach the stores they had already planned with.
Our store is COVID safe and you can park right in front and get in and out quickly. We are here to serve you and help you in any way we can.
At Charney's Menswear & Tuxedos, we care about you and your wedding!
Call us for a wedding appointment or just stop by!
Stay healthy and well.
Sign up today!
Experience, care and no commissioned sales people - ever.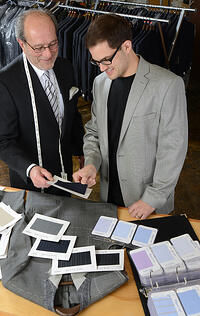 Our team consists of men's clothing experts. These are people who have made men's fashion their career. They know what they're doing and how to make sure you get the proper fit. At Charney's, we take the time to be sure you get the best value for your dollar and we also make sure that what you buy truly fits your needs.

Shop the Easy Way
Use your time to do what you really want to do instead of running all over to find your size or to coordinate your wardrobe.

Find What Fits You