Central New York's
Complete Men's Store

No matter what your occasion, from outfitting you for your wedding, to Friday casual, it's all in one place.
Choose from the largest selection of suit sizes and styles in Central New York.
Suits in short, regular, long, extra long and portly sizes to a 66.
Tuxedo Rentals in all sizes and styles
The latest colors and styles
Our own tailor shop in the store for convenient alterations.
Clothing experts who know how to fit you quickly and perfectly.
We do not send excessive emails, but we appreciate our customers and this is our way of saying "thank you."
Sign up today!
Experience True Service with Non-Commmissioned Sales People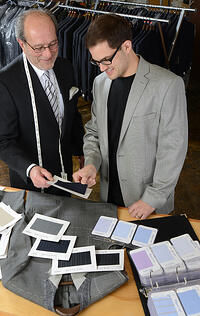 Our team consists of men's clothing experts. These are people who have made men's fashion their career. They know what they're doing and how to make sure you get the proper fit. At Charney's, we take the time to be sure you get the best value for your dollar and we also make sure that what you buy truly fits your needs.

Shop the Easy Way
Use your time to do what you really want to do instead of running all over to find your size or to coordinate your wardrobe.

Find What Fits You