Save 25% on any size Gift Certificate!

Honor your veteran. We'd love to spoil him for you. Give him a shopping trip for now (curbside) or later when we fully open!
You'll save 25%!
$100 Gift Certificate - Now $75
$150 Gift Certificate - Now $112.50
$200 Gift Certificate - Now $150
$250 Gift Certificate - Now $187.50
$300 Gift Certificate - Now $225
$350 Gift Certificate - Now $262.50
$400 Gift Certificate - Now $300
Buy any size, the more you buy, the more you save!
No expiration date, use anytime!
Just stop by between 11:00 - 5:00 Monday through Saturday and we'll serve you according to NYS safety guidelines.
315-463-6011.
Call anytime Mon - Sat from 11 - 5
Stay healthy and well.
Sign up today!
Experience True Service with Non-Commmissioned Sales People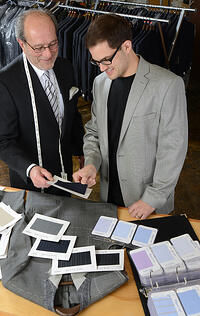 Our team consists of men's clothing experts. These are people who have made men's fashion their career. They know what they're doing and how to make sure you get the proper fit. At Charney's, we take the time to be sure you get the best value for your dollar and we also make sure that what you buy truly fits your needs.

Shop the Easy Way
Use your time to do what you really want to do instead of running all over to find your size or to coordinate your wardrobe.

Find What Fits You