Versatility of the Men's Sport Coat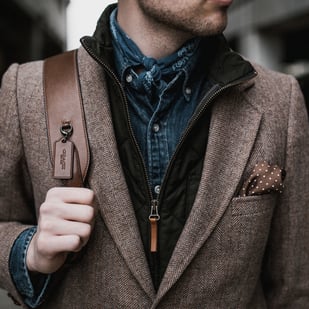 Nothing adds more versatility to your wardrobe more than a sport coat. A sport coat with a pair of dress slacks, dress shirt and a tie create a dress outfit. Matched with a pair of jeans as pictured above, the sportcoat adds special flair to a contemporary layered look.
Many people think that sport coats and blazers are the same thing, but they are not. Sport coats come in patterns, tweeds, and herringbone. Blazers are always solid colors. The sport coat is worn with both contrasting colored casual or dress pants, and jeans.
The possibilities are endless, especially with the help of your personal fashion expert at Charney's.

We carry men's sport coats in sizes 36 to 66 in short, regular, long, extra long and portly sizes.
It's a great way to add a lot of dimension to your wardrobe for at a reasonable price. You'll be amazed at how quickly and easily we can put together this versatile new look for you!