More Sizes Than ANYWHERE Else!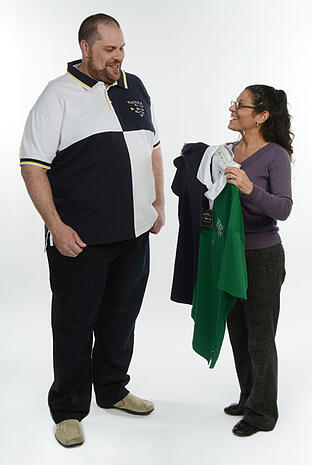 At Charney's every category of clothing we carry is represented in Big and Tall sizes. You'll never feel that you have a limited selection. We promise that you'll have more choices than you've ever had! Our customers also tell us that our clothes really wear well and last. There is a difference in the Big or Tall Clothing at Charney's!

SIZES:
Suits and Sportcoats - 42 Reg Portly to 66 Long Portly
Click here for all Suit Sizes

Dress Shirts - 14 1/2 though 24 - Sleeves to 40" as well as stout men's sizes
Sport Shirts - 2X to 8X - Large Tall to 6XL Tall
Dress Slacks - 44" waist to 70" waist - lengths to 38"
Casual Slacks and Jeans - 44" waist to 72" waist
Coats - 2XL to 10XL including long and extra long sizes
Tee Shirts to 10XL
Workout shorts to 8XL
Sweat pants to 10XL
Sweat Shorts to 10XL
Sweat shirts to 8XL
King size socks to 16
Tall men's ties
Underwear to size 8XL
Shoes and slippers to a size 16 wide
SU clothing in BIG sizes up to a 6XL and tall sizes to a 4XL
Thank you for considering Charney's. If you have any questions, please contact us during store hours at 315-463-6011 to see if we have what you need in your size. And be sure to fill out the form to the right to be on our preferred customer sales list.